Why I love the train chase scene in The Wrong Trousers
Tom Cruise and Marvel can't hold a candle to Aardman Animation's nail-biting stop animation sequence in the classic Wallace and Gromit adventure. The post Why I love the train chase scene in The Wrong Trousers appeared first on Little White Lies.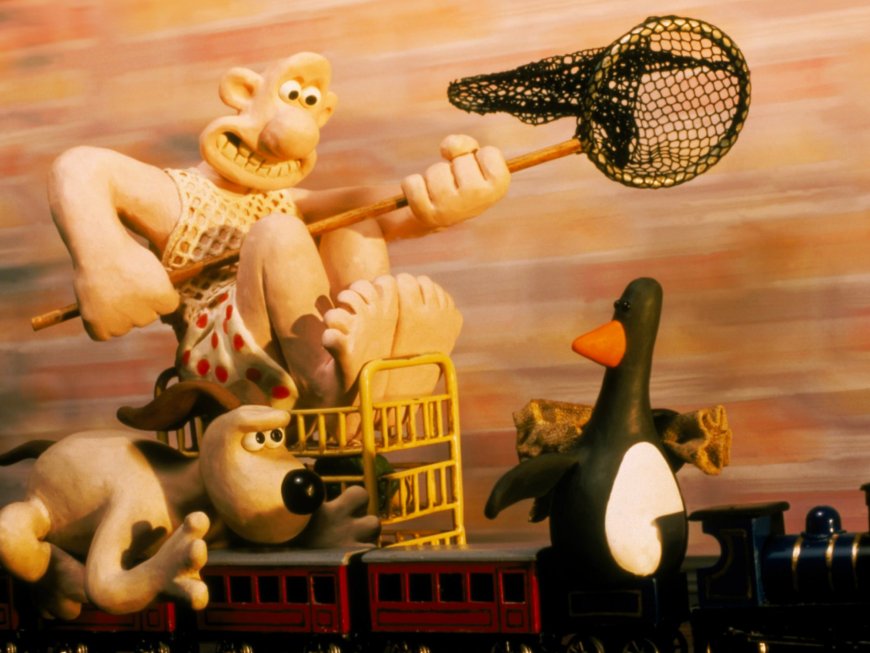 From decades of James Bond's martinis being shaken not stirred, Tom Cruises' increasingly high-risk stunts in the Mission Impossible franchise and the ever-expanding Marvel Cinematic Universe, when it comes to action sequences, often 'bigger the better' equals the modern gold standard. Yet 30 years on, one action scene in particular deserves to be recognised among the greats, delivering fast pace, high tension and fun – albeit without the huge cast and shiny Hollywood budget.
When considering what makes a successful action scene, arguably the premise of a 'dog and his owner chasing an evil penguin while riding a toy train' does not initially come to mind. Yet the train chase scene in Aardman Animation's 'The Wrong Trousers', the second film in the Wallace and Gromit franchise, is the very definition of action and remains one of the most defining films in the history of British animation.
The first Wallace and Gromit film, 1989's A Grand Day Out, introduced the world to Wallace, a Heath Robinson-esque inventor with a fondness for cheese, and Gromit, his loyal, smart, and long-suffering beagle. Created by animator Nick Park on a budget of just £11,000, the film earned an Oscar nomination and gave Park the freedom to experiment with bigger ideas. The 30 minute long The Wrong Trousers followed in 1993, winning the Academy Award in 1994 for Best Animated Short Film, and firmly cementing Aardman Animation Studios' reputation as a force to be reckoned with on the world stage.
As a reminder for those who perhaps did not experience Wallace and Gromit as part of the furniture on nineties British Christmas television, the Wrong Trousers begins on Gromit's birthday. Wallace has an unusual gift for him: a pair of "Techno-Trousers" – a high-tech pair of robotic pants with the ability to move by themselves, which will supposedly be a "fantastic addition to their modern lifestyle."
Wallace soon finds this modern and edgy lifestyle he so greatly desires is expensive, so he decides to rent out a room in their house to deal with his growing debt. The pair's new lodger turns out to be the film's key antagonist, Feathers McGraw, a mysterious penguin who immediately takes a dislike to Gromit. As Feathers becomes favoured by Wallace, Gromit starts to feel like he's been usurped and makes plans to move out. However, the morning after his departure, Wallace gets stuck in the Techno-Trousers and learns of Feathers' evil intentions, which leads to the series of chaotic misadventures which has come to iconize the franchise.
There are many moments that delight, thrill and entertain in The Wrong Trousers. However, one sequence is particularly cherished among audiences and directors alike – the final train chase sequence. Although the sequence is only a few minutes long, it has retrospectively come to sum up the entire film in one madcap, adrenalin-fueled comedy chase, with villain Feathers McGraw sporting a pistol and Gromit having to frantically lay the track as his runaway toy train careers through the house, eventually catching up and stopping the villainous bird in the film's thrilling finale.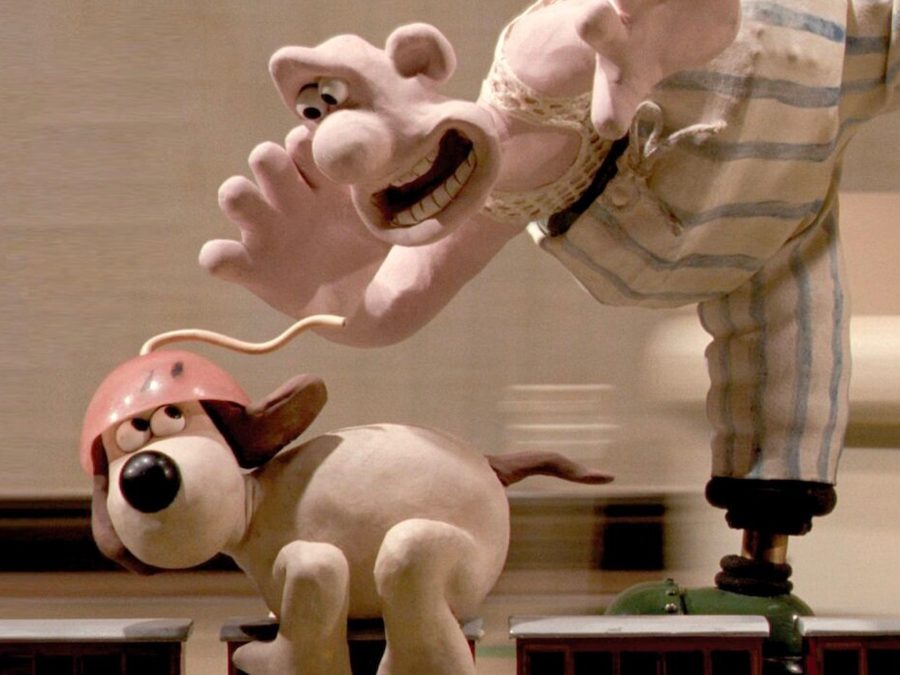 Despite lasting just over two minutes, the chase marked a landmark, never before seen moment in stop-frame animation. In an interview with Inverse Magazine in 2021, Aardman creators described the scene as "the best thing they ever created." Taking inspiration from the classic cat-and-mouse chase of Tom and Jerry, the scene required huge technical skill, attention to detail and out-of-the-box thinking. To achieve the frenetic chase effect, the camera filming the action was attached to the train.
Whenever the train needed to move, the creators mounted it on a mini-crane and would spend hours painstakingly manoeuvring the camera by hand. The majority of the set was hand-painted, while key pieces of furniture on set like the sofa which Wallace and Gromit race around were also moved by hand. Feathers' bullets were fashioned from perspex rods. This crafty approach is perhaps what makes the scene so successful, giving the scene a sense of flow and realism not before seen in stop-frame animation.
Furthermore, another element that makes the scene quite so impressive is the fact the train chase takes place in Wallace and Gromit's very own home. Every object in the scene has appeared at some point throughout the film, adding a new layer of danger to objects we see in our homes every day. No detail is missed, from the dings the penguin's bullets leave on Gromit's lampshade helmet; the way the penguin's wing curls in a fussy gesture when he realizes he's been left with a single train car; the change in lighting to frame Gromit from underneath when he hangs from a great height. Wallace and Gromit keep the audience gripped by taking advantage of their domestic space, creating a high-speed action with as much suspense as a million-dollar Hollywood thriller, that literally takes place in their own living room.
Yet perhaps importantly, the formula of this perfect action scene would not be complete without the perfect villain. Nick Park described Feathers McGraw's villainy as "Hitchcock style" in an interview with The Guardian in 2014. Feathers arrives at West Wallaby Street from nowhere and with nothing to his name except a suitcase. While the audience finds out very little of his backstory, his arrival in the dark of the night is immediately unsettling. While lack of speech is common throughout the film, the silence of Feathers deliberately makes the audience feel on edge, with his dark eyes and his lack of facial expressions, it is impossible to gauge what he is thinking. It soon becomes clear that his rivalry is specifically with Gromit as he flatters, connives and inveigles his way into Wallace's affections, rubbing his palms together in typical evil genius style as Gromit leaves in the rain, in a perfect piece of gothic horror styling which leaves the audience feeling immediately unsettled.
The audience soon learns that Feather's goal is deceptively simple – he wants the world's biggest diamond. His plan all along was to take over Wallace's body and pilot the Wrong Trousers into the city museum, stealing the diamond in an ode to noir-style bank robbers which first popularised the heist film genre. It is Feather's intense desire to get away with his prize which makes the scene so fast-paced and brings his and Gromit's rivalry to a head in a clear reference to a 'Great Train Robbery' style showdown, which is just as masterful in its comedic timing. Despite the obvious comedy of a penguin chasing a dog and human on a toy train, the scene is still remarkably high-stakes. Perhaps this is why, rather fittingly, an article published in Esquire in 2020 termed Feathers McGraw as "cinema's greatest villain."
Ultimately, the success of Nick Park's Wallace and Gromit animations may be down to their proverbial premise: the unbreakable bond between man and his dog. The iconic train chase scene ultimately solidifies this bond as Wallace exclaims "We did it Gromit!" as they successfully catch Feathers McGraw and are able to return to their lives as each other's companions. The Wrong Trousers solidified their status as a quintessentially British comedy duo, and their list of appearances spans films, features and TV. With the hotly-anticipated Chicken Run 2 coming to Netflix this year and with a recently-announced new Wallace and Gromit adventure in the works, Aardman's animation looks set to dominate our screens again. 30 years on, the train chase remains a near flawless concoction of comedy and action and for its creators, remains a career-defining moment for Aardman Studios. As Nick Park put it in a 2018 interview with Cineworld: "There's this freshness that arises when you don't think too much."
The post Why I love the train chase scene in The Wrong Trousers appeared first on Little White Lies.
What's Your Reaction?