Elemental
Opposites attract in Pixar's take on the rom-com, but a tendency to play it safe means that Peter Sohn's sparky sophomore feature never quite ignites. The post Elemental appeared first on Little White Lies.
It's almost 20 years since Disney acquired Pixar from Steve Jobs – in which time the company have produced some of their best-loved films, including Ratatouille, Up, and Inside Out. They've collected nine Best Animated Feature Oscars and count some of the biggest stars in the world among their stable of voice actors, but Peter Sohn – who previously directed The Good Dinosaur – takes things in a different direction with Elemental, a rom-com set in a universe where anthropomorphic elements (earth, wind, fire and water) occupy sprawling cityscapes and go about their daily grind.
Ember Lumen (Leah Lewis) is the daughter of two fire elementals, who moved to Element City from their native land in search of a better life. Faced with xenophobia they set up shop in Fire Town, a dilapidated part of the city, which would eventually become a bustling cultural hub. Ember is expected to inherit her father's grocery shop – The Fire Place – but her father has reservations about her temperament (she's hot-headed, naturally).  After losing her temper while serving a customer, Ember runs into Wade Ripple (Mamoudou Athie) a good-natured water elemental and local city inspector, who declares The Fire Place not up to code. Faced with the prospect of her parents' shop being shut down, Ember begs him to reconsider – and soon it's off to the races in a classic story of opposites attract.
While Pixar films have included romance before, there has never been an explicit rom-com made by the studio, and Sohn's ambition is admirable here, as he attempts to bring new ideas to Pixar amid the glut of sequels and prequels the studio has favoured lately. Lewis and Athie have a pleasant chemistry together, proving that the studio doesn't need huge celebrities to create likeable, engaging characters. It's clear that a lot of thought has gone into the design of Element City and how the inhabitants live within it (Sohn has been developing the idea for Elemental for almost a decade) but despite these efforts, there's still something that feels slightly odd and artificial about the animation. Pixar is known for its gorgeous, evocative aesthetics, and there's something missing from Elemental.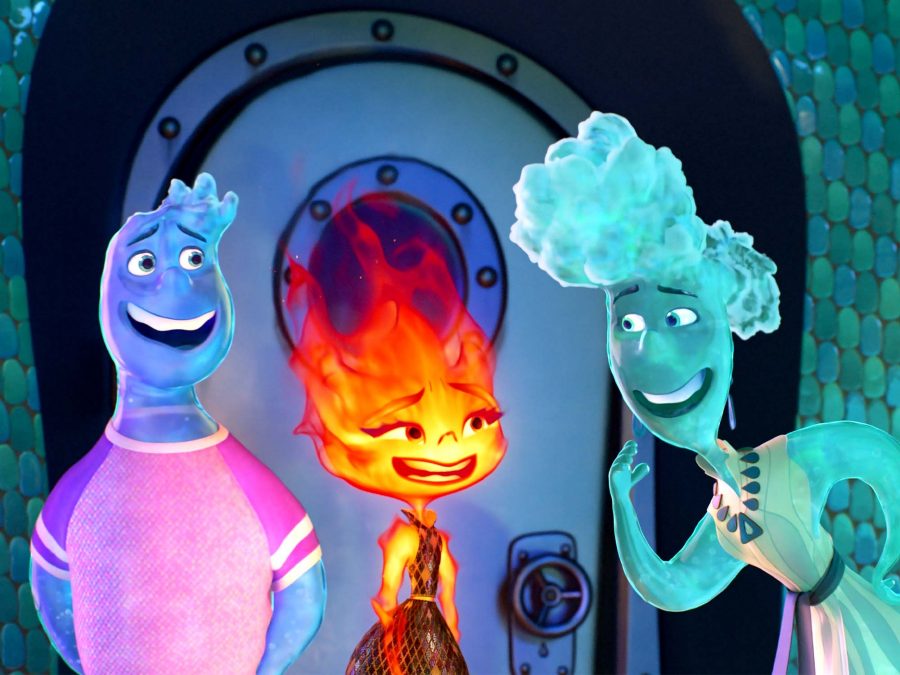 Also missing is more insight into the Ripple family, who are arguably the more charming and expressive group compared to the Lumens. Catherine O'Hara puts in a fine showing as Wade's ditzy mother Brook, who immediately takes a shine to Ember and encourages her to pursue her love of glassblowing. Perhaps the problem is that Elemental comes so soon after Turning Red, which similarly addressed the Asian-American diaspora through the lens of a parent-child relationship, but with more of a focused tone. Elemental is a more scattered affair, and a large subplot that revolves around city planning and the creation of a dam in Fire Town will likely be of little interest to the film's young target audience.
There are brief glimmers of that old Pixar magic, and the characterisation of Wade as an emotionally open and vulnerable male protagonist feels surprisingly novel in a family-oriented Disney film. But its cliche Romeo and Juliet storyline feels old hat, and it's a shame that even such a fantastical world seems bound to be all but identical to the one we live in. Surely a reality where the elements are in charge should be more inventive, not limited by the trappings of capitalism and gender norms? Perhaps there's a reluctance to go too far with these concepts and risk alienating audiences, but when animation studios around the world have been running laps around Pixar for a good while now, it feels like the American titan needs to step up their game and dream a little bigger.
Little White Lies is committed to championing great movies and the talented people who make them.
By becoming a member you can support our independent journalism and receive exclusive essays, prints, weekly film recommendations and more.
---
ANTICIPATION.
3
ENJOYMENT.
3
IN RETROSPECT.
2
---
Directed by
Peter Sohn
Starring
Leah Lewis, Mamoudou Athie, Ronnie Del Carmen
The post Elemental appeared first on Little White Lies.
What's Your Reaction?